B2B market research services are crucial for financial services companies.
In today's rapidly evolving business landscape, it is essential for Financial Services firms to understand their clients and markets deeply. This is where B2B market research comes in, as it enables businesses to collect and analyse data to make data-driven decisions that create effective strategies that resonate.
Financial Services market research has become even more pressing in recent years due to the rapid changes in technology, and the regulatory landscape.
For example, the rise of digital banking has disrupted the traditional banking industry, and Financial Services companies have had to quickly adapt their products and services to meet the needs of their clients in this new environment. Similarly, the increasing focus on responsible investing and ESG (Environmental, Social, and Governance) factors is transforming the investment industry, and companies need to understand how to address these new trends.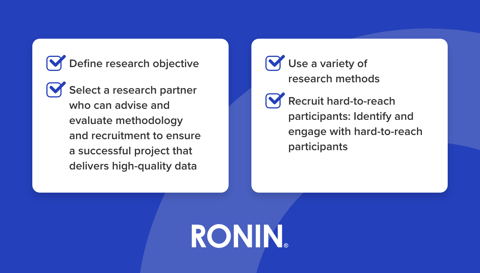 Choosing the right methodology is essential for collecting high-quality data that provides valuable insights. For instance, a quantitative survey may be appropriate for understanding the market size, while a qualitative study may be needed to explore the motivations and behaviours of a specific customer segment. But choosing the right partner to advise and evaluate methodology and recruitment is key to the success of a market research project. A good partner can help to ensure that the research is well-designed, the methodology is appropriate, and the data collected is reliable and accurate. 
One of the biggest challenges for Financial Services companies is recruiting hard-to-reach participants, such as high-net-worth individuals or business owners. These groups may be difficult to access through traditional recruitment methods. For example, it may be challenging to persuade a busy CEO to take part in a focus group or a survey. This is where specialised recruitment strategies, such as targeted outreach and referrals, can be invaluable. 
At RONIN, we use our extensive networks and specialised recruitment strategies to identify and engage with these hard-to-reach participants. For instance, we may approach them through their professional associations or networks or offer incentives to encourage participation. 
RONIN - we get people, real people, and real data.
B2B market research specialists
Are you trying to conduct B2B market research in financial services? At RONIN, we get people. Let us help you with your next project.
Start your project
Back to top