Engaging in research with retailers offers a panoramic view into the intricate tapestry of commerce and consumer behaviour. Retailers serve as the vital nexus between products and the end-users, imbuing them with firsthand insights into purchasing patterns, evolving market trends, and emerging customer needs. Their unique position in the supply chain makes them an invaluable resource for understanding product performance, pricing dynamics, and promotional effectiveness. By tapping into the knowledge of retailers, businesses and researchers can access a broad spectrum of data, drawing conclusions that are not only comprehensive but also grounded in the real-world experiences of those at the forefront of sales and customer interaction. In essence, research with retailers is an expansive window into the ever-shifting landscape of the market, offering unparalleled depth and breadth of information.
Audiences - Market research with retailers
Supermarkets, hypermarkets and convenience stores, speciality stores, pharmacies, beauty and health, department stores, franchise stores, electrical goods & tech, fast food and quick serve eating places, cafes and restaurants, e-tailers and online stores.
Customer demographics & behaviour, marketing & advertising, pricing & supply chain, deliveries and e-tailing, staffing & training, challenges and concerns in the retail landscape.
Fast food outlets tracking study
Phone, phone recruit to online and online study with retail managers regarding delivery services. Comparison of delivery providers' services, pricing and future partner intentions. A mix of independent, franchise and chain outlets. 8-minute online or 11-minute phone questionnaire.
500 interviews per month, 12 months per year
Sample sourced by RONIN to cover independent and franchise outlets
Recontact of each participant 4 times per year
Fast food outlets tracking study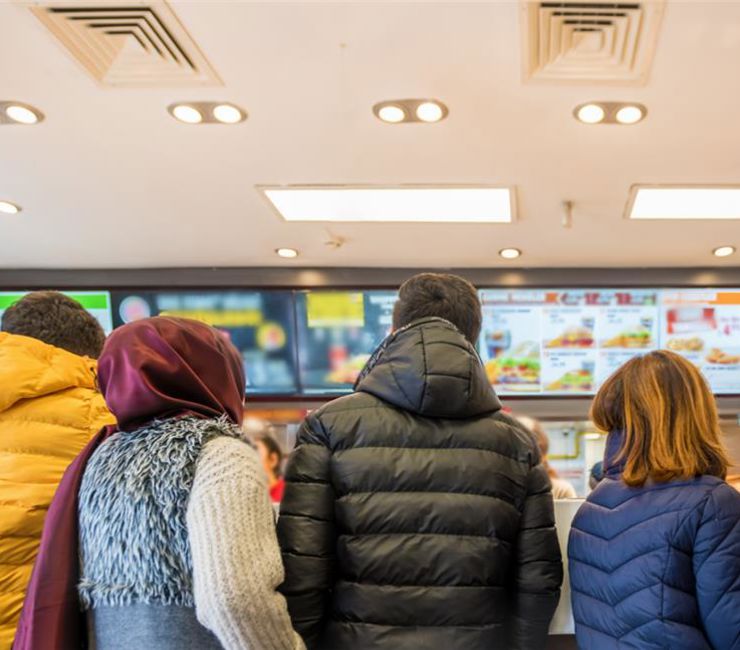 When talking to retailers for market research purposes, there are several common topics and areas of interest that can be explored to gain valuable insights. Here are some key topics that researchers often delve into:
Customer Demographics & Behavior:
Who are their primary customers?
What are the shopping patterns and preferences of these customers?
Sales & Performance Metrics:
Which products or services sell best?
What are their average sales per day/week/month?
Inventory & Stock Management:
How do they manage inventory levels?
Which products have the highest turnover rates?
Are there issues with stockouts or overstocking?
Pricing Strategies:
How do they set prices for their products or services?
Do they offer discounts or promotions? If so, which are the most effective?
Marketing & Advertising:
What marketing and advertising channels do they utilize?
Which promotional strategies have been most effective in driving sales?
Store Layout & Merchandising:
How do they decide on the layout of the store or product placements?
Are there strategies behind end-cap displays, aisle arrangements, or window displays?
Customer Service & Experience:
How do they handle customer complaints or returns?
What steps do they take to enhance the customer shopping experience?
Technology & Innovations:
What kind of Point-of-Sale (POS) systems or other technologies do they use?
Are they implementing or considering any technological innovations like AR fitting rooms, mobile payments, or loyalty apps?
Competitive Landscape:
Who do they view as their main competitors?
What differentiates them from these competitors?
Supply Chain & Vendor Relations:
How do they source their products?
Are there challenges or benefits in their relationships with suppliers and distributors?
Trends & Industry Shifts:
What current market trends are impacting their business?
How do they adapt to changing consumer preferences or industry shifts?
Challenges & Concerns:
What are the biggest challenges they face, whether operational, financial, or external (like regulatory issues)?
Are there specific concerns they have for the future?
Growth & Expansion Plans:
Are they considering opening more stores or expanding their product range?
What are their goals for the next year or five years?
Training & Staffing:
How do they train their staff?
Are there challenges in recruitment or retention?
Feedback on Products/Services:
If researching for a specific product or service, how does the retailer view its performance, quality, or demand?
When approaching retailers for these insights, it's essential to be respectful of their time and be clear about the research's purpose. Building a relationship of trust can lead to more candid responses and deeper insights.
Back to top